Welcome to Community Outreach!
The San Francisco Quilters Guild has a long history of donating quilts to organizations in San Francisco and the larger community. Our Community Outreach Team facilitates providing quilts to people facing life challenges and they have been organizing and distributing quilts and pillowcases to community organizations in San Francisco for over 40 years.
We provide quilts to a wide spectrum of San Franciscans including seniors, teens, babies, people struggling with addiction, and unhoused people. In the last 3 years the Guild has donated 1500 quilts to non-profits in San Francisco.
Guild members donate quilts made from their own fabrics or complete kits provided by Community Outreach from donated fabric. Other members move donated tops along the path to completion by quilting, binding, or attaching labels.
We also take on special projects.  Our most recent project was making 260 quilts for residents of the new supportive housing at 1064 Mission Street.  Another lock-down project was 20 twin size bed quilts for residents of Epiphany Center for Addiction Treatment.
When the pandemic prevented indoor gatherings, Curbside Outreach was created.  For three years members have come to Outreach Co-Chair Adrienne Hickman's garage every first and third Saturday of the month to pick up kits and deliver quilts and tops.
Curbside Outreach allowed members to socialize outdoors and masked and was especially popular during the shelter-in-place. 
Currently Curbside Outreach is now held on the first Saturday of each month.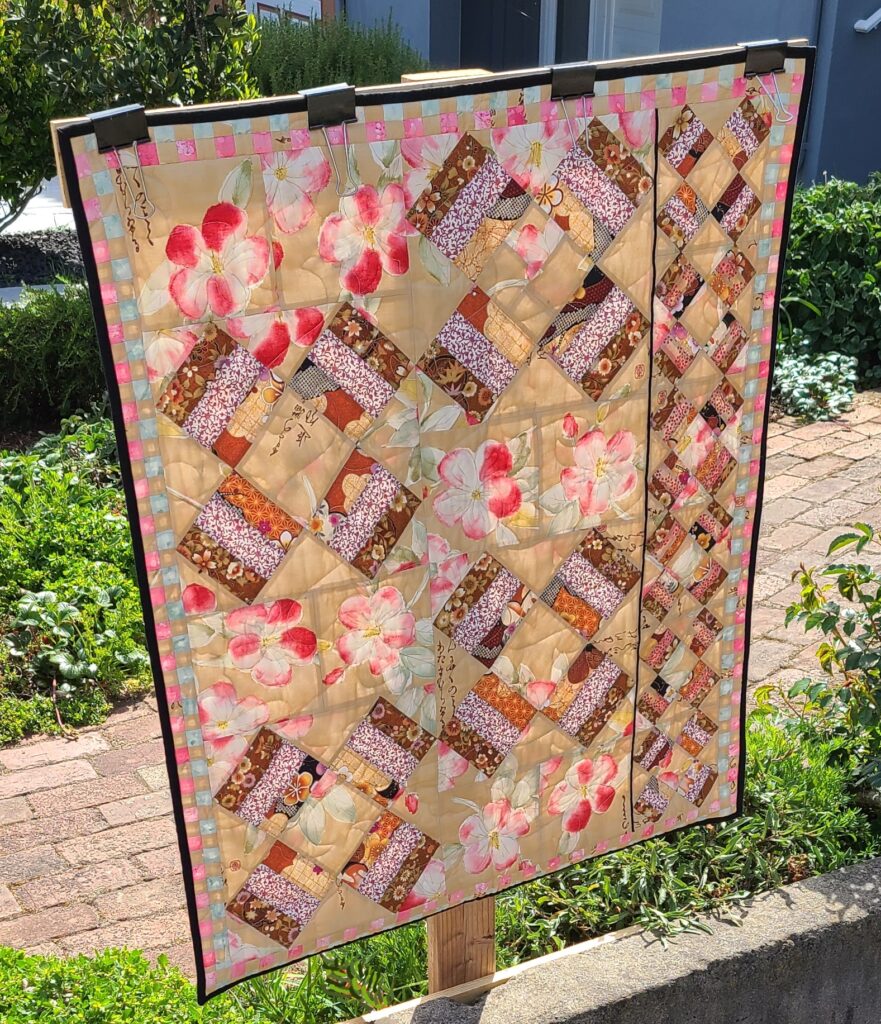 Community Outreach Sewcials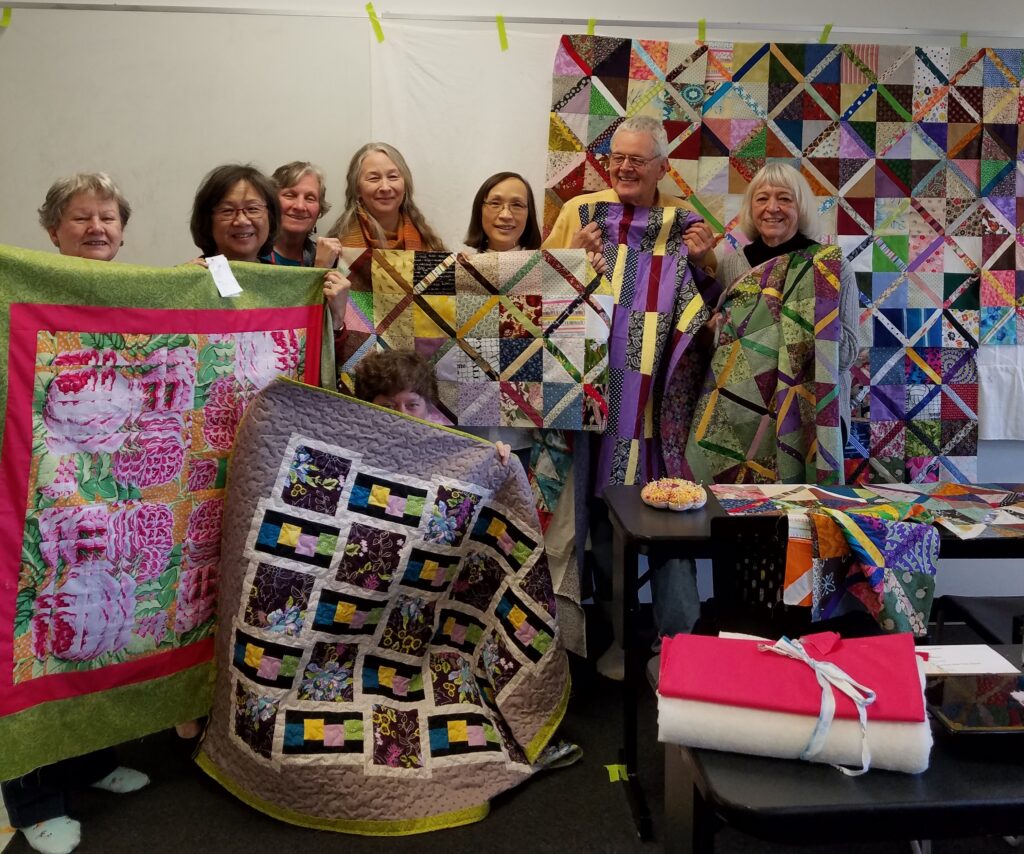 We are still working on finding a space to host our sewcials but please check the calendar and newsletter for an announcement once we do.
Current Quilt and Pillowcase Recipients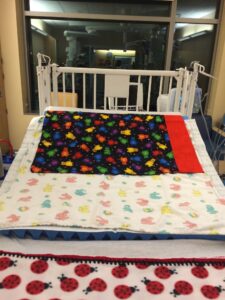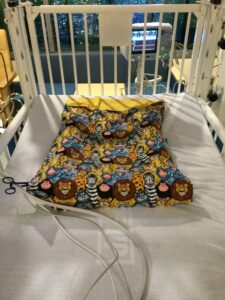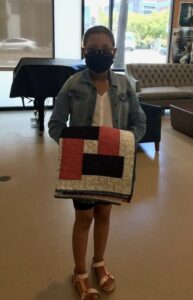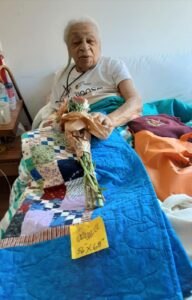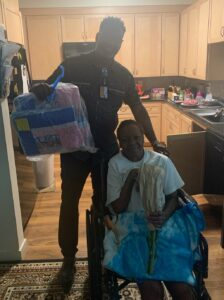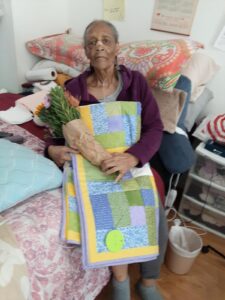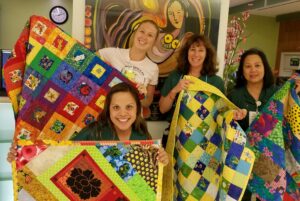 Previous Outreach Projects
1064 Mission Street Project: 2022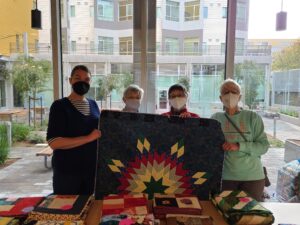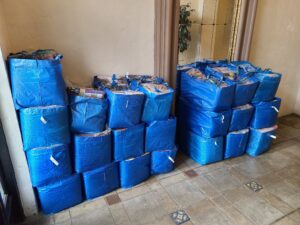 The Mission Street Project has finally come to a close. It was a little over a year ago that we put out a call for 256 lap quilts for the future residents of the 1064 Mission Street Supportive Housing Project. At coffee mornings on December 19 and 21, 2022 we were able to help residents choose a quilt for their new apartment. We rarely meet the people who receive the quilts. It was a delight to get to talk with the recipients and help them select a quilt.
If you would like to find out more about the 1064 Mission Supportive Housing Project you can read about it on their website.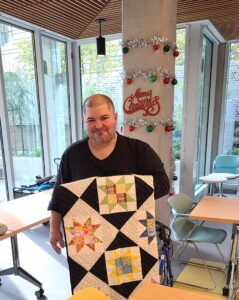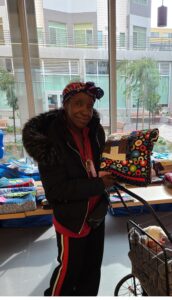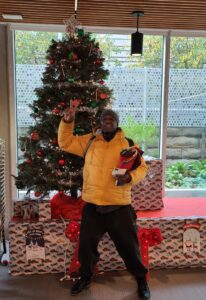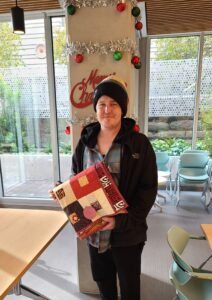 Epiphany House Project: 2020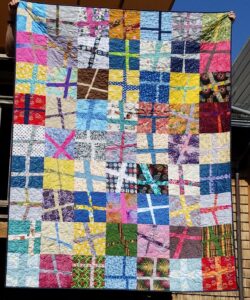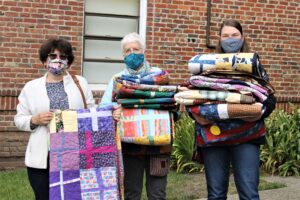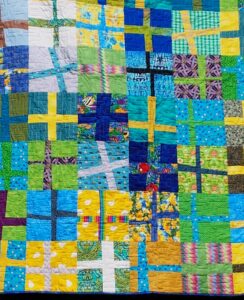 20 twin size quilts were made for the residents of Epiphany Center.
If you would like to find out more about Epiphany Center you can read about them on their website at Epiphany Center.
Paradise Fire Survivors Quilts Project: 2019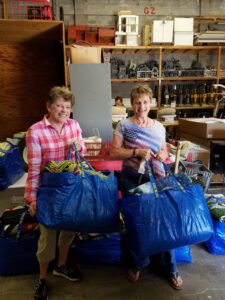 Members made 109 quilts which were brought to the Annie's Star Quilt Guild in Chico in 2 large batches in 2019.
We are always making up new kits and which means we are always coming up with new patterns. Below you will find 7 patterns to make at home – Click the desired image to open the PDF pattern instructions.
The organizations we serve suggest the following dimensions …
but any size quilt is welcome
Baby quilts range from 36" x 36" to 40" x 40"

Lap and teen quilts range from 40" x 40" to 50" x 60"
We thank the guild for the priceless gift of exquisite hand-made quilts for the courageous women we serve at Epiphany Center
– With gratitude, Epiphany Residents, Sister Betty Marie, Suzi & Mary
On Behalf of the Board of Directors and all of us at Family House, please accept our sincere thanks for your generous gift of handmade lap quilts. You make it possible for us to provide care, comfort and compassion every night.
– Family House
"After such a trying couple of days in the NICU it was so wonderful to receive such a great gift."
–Love, Baby Archie