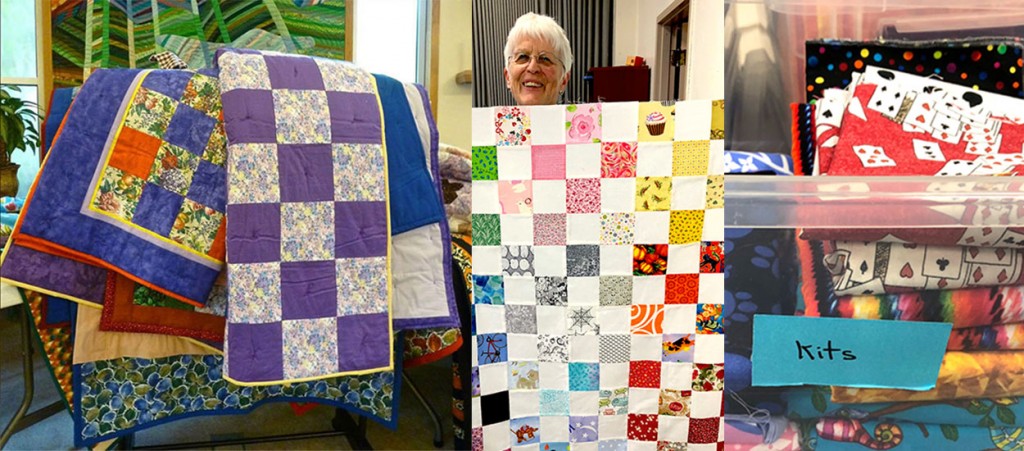 Join Our Charity Quilt Activities
The San Francisco Quilters Guild has a long history of sharing quilts with family, friends and the larger community. Community Outreach regularly contributes quilts and pillowcases to the California Pacific Medical Center's Neonatal Intensive Care Unit (NICU), the Birthing Unit at San Francisco General Hospital, Benioff Children's Hospital at the University of California, Epiphany House for Families in Recovery, and the Veteran's Hospital. At the instigation of individual members, we also respond to special needs, such as the catastrophic fires in Lake, Napa and Sonoma counties.
At the Community Outreach table during monthly meetings, interested members can drop off donations, choose quilt kits, and pick up any or all components for making an Outreach quilt or pillowcase. Click here for PDF instructions.
At least twice a year we devote a Saturday Sewcial to Community Outreach projects. Participants choose among such activities as making pillowcases, binding quilts, completing donated quilt tops, finishing their own creations, piecing orphan blocks into quilts, assembling quilt kits, and prepping materials. Check Events for upcoming Outreach Sewcials.
Our Newest Project … for Stay-at-Home Sewing
Please consider participating in our newest Community Outreach project, especially devised for stay-at-home sewing. We're asking SFQG members to help make 960 liberated-cross blocks over the next two and a half months! These blocks will allow us to produce 20 twin-size quilts as donations for Epiphany House later in the year. Click here for details. And Thank You!

The charities we serve suggest the following dimensions …
but any size quilt is welcome
> Preemie quilts range from 24″ x 24″ to 30″ x 30″
> Crib quilts range from 36″ x 36″ to 36″ x 45″
> Lap quilts are about 45″ x 60″
> Twin bed quilts are about 60″ x 80″
What Recipients Say
"Thank you for the lovely quilt! It's so nice to bring a little piece of 'love' from the hospital home with us!"
–Erica & Tim
"After such a trying couple of days in the NICU it was so wonderful to receive such a great gift."
–Love, Baby Archie
"Thank you so much for the beautiful hand-quilted orange alphabet quilt. It made my stay in the NICU manageable and I appreciate your thoughtfulness in making it. Because of your generosity, I'll be mindful of paying it forward too!"
–Isabel D.
"Your gift and the time spent on this quilt warmed up an otherwise traumatic experience. Thank you for your caring and generosity."
—Vince, Sabrina & Baby Colette
"Thank you so much for the quilt. It was a rough week and I am so happy to go home with an awesome keepsake."
—Rob, Reija & Baby