12 Chances to Win a Silk Opportunity Quilt!

In a creative twist on our usual Opportunity Quilt fundraiser, in 2023 the SFQG produced 12 quilts instead of just one! Starting in 2019, guild members began donating silks to use in Sue Fox's workshops on techniques for working with silk in quilt-making. Those in-person workshops never happened. But Sue and her team turned that stash into sew-at-home kits, scores of participants got kits by mail, and they began piecing four styles of blocks. Working with thousands of those components, 12 guild members stepped up to design, assemble, and quilt a dozen quilts, ranging from wall-hangings to bed-sized.
All "12 Chances to Win" Opportunity Quilt prizes are now in the hands of the Winners. Here's WHO chose WHICH Quilt Prizes… (listed in order of the ticket pull.)
1) Karen Warner (in the audience) chose C—"Magic Carpet" made by Sue Fox.
2) Joanne Reiter (remote winner) chose B—"Tipsy Silks" made by Dani Lawler.
3) Kathleen Van Dyke (remote winner) chose G—"Spinning 'Feathered' Star" made by Carolyn Startup.
4) Sim Thadani (in the audience) chose E—"Ojos de Dios" made by Sue Fox.
5) Jan Etre (in the audience) chose H—"Ruby & Gold Improv" made by Kenan Shapero.
6) Deb Montgomery (remote winner) chose D—"Silver Leaves" made by Tish Chung.
7) Katie Woods (remote winner) chose J—"Rubylinth" made by Jason Horsey.
8) Sandy Thacker (in the audience) chose K—"Inspiration: Bento!" made by Christine Reiter.
9) Beverly Hawks (remote winner) chose F—"Neon Star" made by Holly Gatto.
10) Seema Rathod (in the audience) chose L—"Dragonfly's Chase" made by Cathey Kennedy.
11) Joanne Reiter (remote winner) chose I—"Silk Stripes" made by Laureen Neilly.
12) Barbara Crawford (in the audience) chose A—"Plans Have Changed" made by Gail DeMartis.
Special Lottery Quilts— Prizes available ONLY to participants of the Community Built Maker Crew and the "12 Chances to Win" Ticket Sales crew were drawn on Friday.
—Gail De Martis (component maker & quilt designer) chose "In Conversation" designed and built by Fern Royce.
—Andrea Segura-Smith (Ticket Sales & the show's Vendor coordinator) chose "Extra-Vaganza" designed and built by Mary Spadaro.
We are grateful to ALL of the VOLUNTEERS who participated in this year's Opportunity Quilt Project.
We tried something different… We learned a few things… and We had FUN!!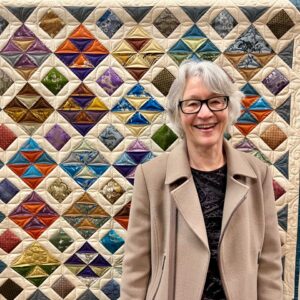 And Now … Enjoy the Compelling Designs and Eye-Popping Colors of our Opportunity Quilts!

As an unexpected result of pandemic conditions, the SFQG's Opportunity Quilt project grew from one quilt to a dozen. Here's how it happened.
Fall 2019. Our project began before COVID, when the guild asked for donated silks to use at the SFQG's 2020 retreat in preparation for a new Opportunity Quilt. The response was overwhelming—Dupioni, plain weave, habotai, satin, large pieces and small, yardage, bags of Chinese brocades, mostly solid colors, but some stripes and plaids, too.
March 2020. Lock-down, and the project came to a halt. For the rest of the year and for much of 2021, we looked for a way to engage guild members who wanted to participate while navigating pandemic restrictions. Our brainstorm was to turn an in-person project into a sew-at-home endeavor using kits of pre-cut materials and how-instructions sent by mail.
November 2021—March 2022. Hundreds of kits were assembled for release over four months, with each month's kit devoted to a different block style. All fabrics were drawn from our fabulous collection of of donated silks.
January–June 2022. More than a quarter of the SFQG memberships signed up to receive multiple technique kits. They stitched thousands of block components, while learning four simple, step-by-step strategies for using silk as a quilt-making material.
April–November 2022. As participants returned their components, 12 members stepped forward to design, make and quilt a variety of projects. The results display a wide range of design concepts, all using just our four basic block construction techniques.