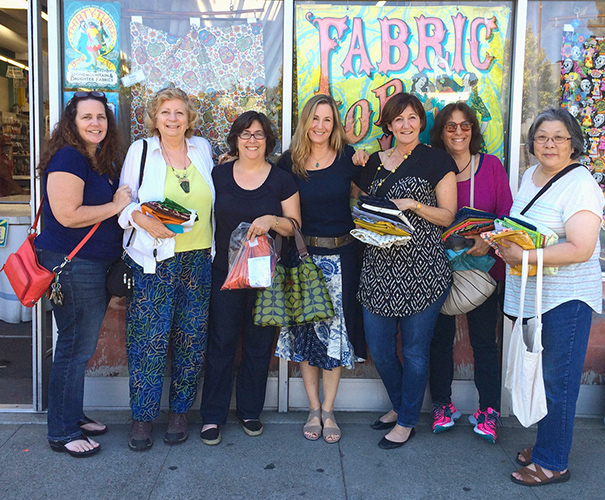 Several Bee Modern members enjoying a shop hop to Stonemountain & Daughter
Sewing Circles are groups of guild members who pursue shared interests by meeting regularly, sewing together, critiquing one another's work, visiting galleries, going on shop hops, making charity quilts, and more.
They include Bee Modern, whose members share an interest in modern quilts. As its name suggests, English Paper Piecing focuses on a particular technique. The Wednesday Whimsicals have evolved into sewing friends who meet occasionally. And the Easy Piecers just enjoy relaxed, quilty get-togethers.
Betty McNiel is working to place interested members in a new circle; her contact info is in the Membership Directory.
You may also want to consider the long-running sewing class at San Francisco City College taught by SFQG founder Caroline Lieberman: in addition to sewing lessons, participants enjoy technique demonstrations, optional group projects, Show and Tell and much camaraderie. Her classes are part of CCSF's Older Adults program but all ages are accepted. Check back for a link to an upcoming class.