The SFQG Welcomes Joe Cunningham & Barb Strick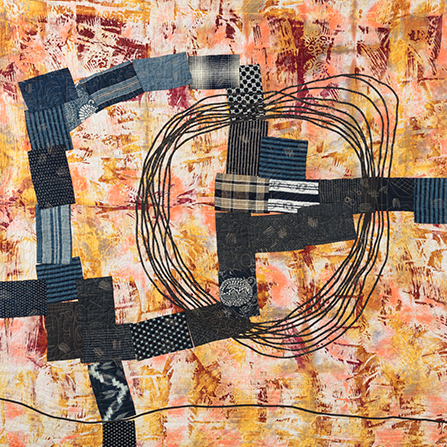 A professional quilt artist since 1979, Joe Cunningham is renowned both for an edgy improvisational style and for a knowledge of quilt history and love of traditional techniques, especially hand stitching.
Joe studied with the quilters of Gees Bend, served as artist-in-residence at the De Young Museum, and lectures and teaches nationwide. He has published extensively, including Men and the Art of Quiltmaking (the first book on that subject), a catalogue for the Shelburne Museum's exhibition Man-Made Quilts: Civil War to the Present, an essay for the de Young Museum show Amish Abstractions: Quilts from the Collection of Faith and Stephen Brown, a column for Quilt Life magazine called Biased and Edgy, and more. His media appearances include Craft in America, The Quilt Show with Alex Anderson and Ricky Tims, and other programs.
His quilts are in the permanent collections of the De Young Museum, The Shelburne Museum, The Newark Museum, The San Jose Museum of Quilts and Textiles and many private collections.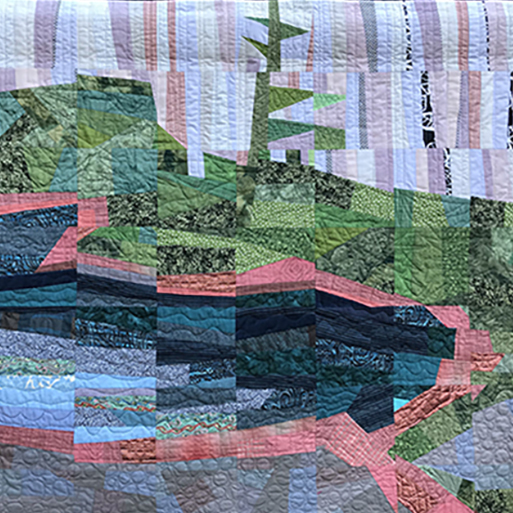 SFQG guild member Barb Strick has just won top honors from QuiltCon 2023, presented by the Modern Quilt Guild. Her quilt, Bullseye (detail shown above left), was chosen as Best in Show by this year's judges, Sarah Bond, Karen Hampton, and Nancy Fuka. Barb's quilt story goes back more than 20 years.
"It was 2002; I was looking for a way to channel my creative drive, and in my first quilt class, I knew I had found it. Quilting was a culmination of so many of my past skills and interests—sewing, weaving, crafting, graphic design and math. Since then, great teachers and endless experimentation continue to help my style evolve.
I typically like to work improvisationally … a palette of fabrics … the spark of an idea … a willingness to let the design happen. As colors and shapes define themselves, the quilt appears. Curating that process, with continuous decisions, is the fun part for me.
Recently, I find myself doing just the opposite! I've been working intentionally, starting with a sketch and planning layout and colors before sewing. That way, I can hear my own voice more clearly.
Either way, my creative process is something like meditation. When I let my mind drift and then re-focus, new perceptions and possibilities present themselves."