Rings of Change with Colleen Granger

Rings of Change from Colleen Granger is designed for success, with the rings topstitched onto the background fabric. The edges can be turned and topstitched or left raw and topstitched. Several options make this quilt unique to each quilter. You can pick 18 fat quarters, use a 2-1/2″ strip pack, or purchase a laser-cut kit. Patterns are provided in class. You can also purchase acrylic templates to make cutting easier.
Once your rings are constructed and pressed, it's time to play at the design wall. Be sure to pictures as you move your rings from place to place. It will be a busy and fun day for all!
Improv Games for Quilters with Joy-Lily

Take a break from matching corners and perfect piecework! With cheerful guidance from Joy-Lily, explore a toolkit of improvisational piecing principles, processes, and strategies. Create blocks that you can interchange, mix or match. Quit matching corners, miss the points, and create more exciting quilts.
Bring a coordinated selection of fabrics and you'll go home with a handful of sample blocks that play well together. Enjoy stress-free quilting fun.
Begin as You Mean to Go On with Sue Fox: An Exploration of Personal Process, Inspired by Vintage Quilts & Their Makers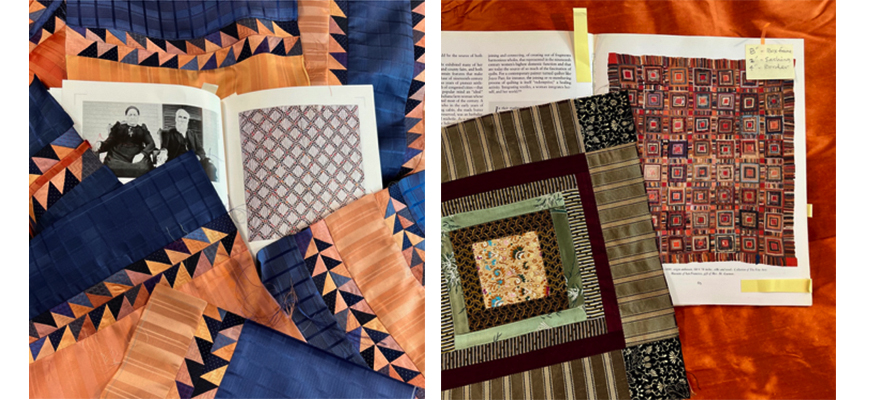 Sue Fox is constantly inspired by the creativity of vintage quilts, often assembled from the same basic array of simple block components but put together in varied ways. These time-tested blocks also use straight-line sewing, with pieces cut and stitched together into geometric patterns. The versatility of these components is astounding.
Using these accessible techniques, this workshop will help you discover your own quilt-making vocabulary. Are you drawn to certain types of quilts over and over again? Can you identify common design elements in the quilts you love?
This workshop is the perfect opportunity to use a loved one's clothing, unusual and/or upcycled materials, and any beloved fabric you've been hesitant to cut into. It's also a good segue into the guild's "Community Built" Opportunity Quilt, which is based on just such simple quilt blocks and assembly processes.  "Community Built" blocks and process tutorials, available on the Members Only page, are a great place to begin your own exploration of component-building.
Independent studio is your chance to start a new challenge or continue an unfinished project.