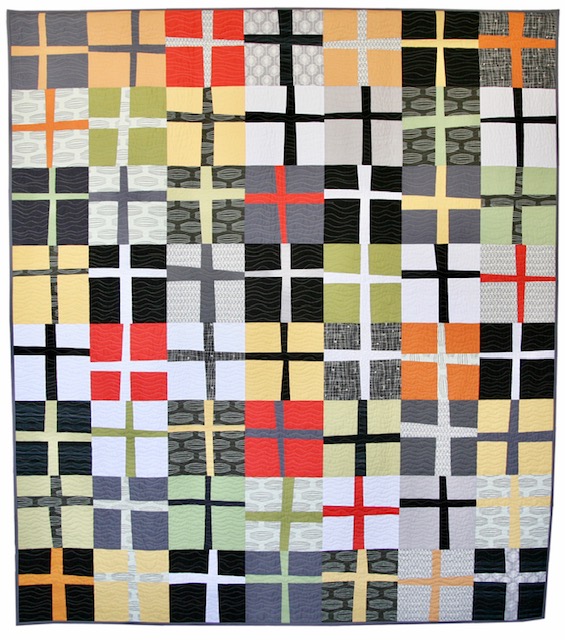 Since most of us are staying at home, what better time to get involved in the guild's latest charity project: sewing 960 liberated-cross blocks for making 20 twin quilts as donations for Epiphany House.
Community Outreach is inviting all SFQG members to get involved, and making it easy for everyone to participate. You'll find pictures to inspire you on this page (including Anna Chan's All is Bright Upon that Cross, at left) and step-by-step instructions from the LollyQuiltz blog. Plus, there's a prize for the person who pieces the most blocks.
What You Need to Know

Click here for directions for the liberated-cross block.
Use any colors or prints you like.
Start with 12″x12″ pieces of fabric or larger.
DO NOT square up your pieced blocks. How great is that!?!  Community Outreach will square them up.
Want to keep sewing? Once all the blocks are in, we'll make "top kits" available for people who want to sew blocks into quilt tops.
Got time for more? Feel free to make and donate a twin-size (63×87) quilt of you own design.
Please package your blocks together, along with your name and the number you've made, so we can track our progress..
Maren's home is the collection point for the blocks. You can send them by mail, drop them through her garage-door mail slot, or arrange curbside drop-off if you have lots of blocks. You'll find Maren's contact info and address in the Membership Directory.
The maker of the most blocks will win a $20 gift certificate to his/her favorite store.
About Epiphany House

The guild has donated quilts to this organization before, in support of its mission to strengthen family life by healing trauma, mental illness, substance abuse and ending cycles of homelessness and poverty through holistic client-centered care. You can learn more here.
Credit for the work at the top of this page goes to LollyQuiltz for the pieces at left and right, and to the Kansas City Modern Quilt Guild for the middle quilt, titled Kelsey's Crosses.